Wilson Middle School is an abandoned school district located in Cleveland, Ohio. The structure was built in 1903 by architect Frank S. Barnum and was named for the street it faced, at the time being Willson. Later on in 1905 the city adapted to a numbered-street system as was used through NYC and Chicago. This idea was proposed by Eliot Ness who after hunting Al Capone, became Safety Director for the city of Cleveland. The system was proved to work helping safety forces navigate their way around the city in both NYC and Chicago, and was soon after approved in Cleveland.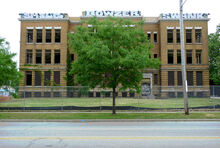 The windows at the base are now boarded, while all above are open and void of glass, leaving the interior a victim to changing weather, which includes the rain and snow Cleveland has to offer.
Nowadays, the school has been abandoned since 2005 and shortly, the students and teachers walk away while it's abandonment is still open as of today.