As far as myself in general, I'm into video games, digital photography, music (from pretty much anything from new age to death metal) and law.
And as far as the abandoned places stuff goes, I've always liked them, they're very cool. I don't recall exactly when I ever got interested in them in the first place, but I can tell you, my interest goes back a long time.
Some links of interest (or not)
Edit
My YouTube channel, having one abandoned places vid on it (so far!), among other stuff.
For those into (mostly classic) video games, in case anyone is into the unique Vectrex machine/vector graphic video games (although the site also covers anything else from the oldest Pong consoles to the most recent i0S and Android apps), I have my vector gaming forums I founded, as well as the Vectrex wiki, along with the bottom of the screen shooter, or BOTSS wiki AND the Arcade preservation wiki as well.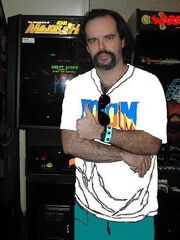 Community content is available under
CC-BY-SA
unless otherwise noted.