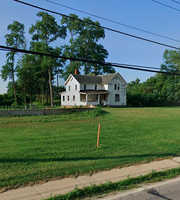 The 5814 House, located in Madison, Ohio. Built around in 1910. But it has not renovated yet,
Fun fact: 5814 is divided by 19.
Gallery
[
]
Note: Some pictures will be showing the outside and inside. It might be magic inside to look at these bathrooms like how it look at the inside of Dulce Jesus Mio Mi Juguetes and Mi Pueblo in Colombia.